Nirvana
Table of Contents
Boxsets
With the Lights Out (2004)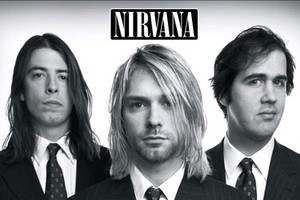 "Heartbreaker"
"Anorexorcist"
"White Lace and Strange"
"Help Me, I'm Hungry"
"Mrs. Butterworth"
"If You Must"
"Pen Cap Chew"
"Downer"
"Floyd the Barber"
"Raunchola / Moby Dick"
"Beans"
"Don't Want It All"
"Clean Up Before She Comes"
"Polly"
"About A Girl"
"Blandest"
"Dive"
"They Hung Him On A Cross"
"Grey Goose"
"Ain't It A Shame"
"Token Eastern Song"
"Even In His Youth"
"Polly"
"Opinion"
"Lithium"
"Been A Son"
"Sliver"
"Where Did You Sleep Last Night?"
"Pay To Play"
"Here She Comes Now"
"Drain You"
"Aneurysm"
"Smells Like Teen Spirit"
"Breed"
"Verse Chorus Verse"
"Old Age"
"Endless, Nameless"
"Dumb"
"D7"
"Oh, the Guilt"
"Curmudgeon"
"Return of the Rat"
"Smells Like Teen Spirit"
"Rape Me"
"Rape Me"
"Scentless Apprentice"
"Heart-Shaped Box"
"I Hate Myself and I Want To Die"
"Milk It"
"Moist Vagina"
"Gallons of Rubbing Alcohol Flow Through the Strip"
"The Other Improv"
"Serve the Servants"
"Very Ape"
"Pennyroyal Tea"
"Marigold"
"Sappy"
"Jesus Doesn't Want Me For A Sunbeam"
"Do-Re-Mi"
"You Know You're Right"
"All Apologies"
"In the pines, in the pines, where the Sun don't ever shine."
Some disconnected thoughts:
"Heartbreaker" without "Living Loving Maid"? Is that even legal? There's also a little jam of "Moby Dick"; who knew Kurt had a Zep fetish?
There are also a lot of Leadbelly covers. The studio take of "Where Did You Sleep Last Night?" is best, but "Ain't It A Shame" is right after because it makes fun of Southerners.
"About A Girl" and "Dive" are still the only pre-Nevermind tracks that I particularly care for, and both appear in demo form here, although, to be honest, neither sounds much different from its released version. There are also early mixes of a few later songs that sound nearly identical. "Pay To Play" is just "Stay Away" with a different refrain (and it's not like he's known for carefully enunciating his screamed out choruses).
The electric version of "Polly" on From the Muddy Banks of the Wishkah is better than the one here because he, like, totally screams out the end of it and it's awesome. How many versions of this song does the world need anyway?
There are several acoustic versions of released songs that aren't terribly interesting either. I wasn't dying to hear "Lithium" without the bassline and with a pussier scream.
There are a bunch of unreleased songs that were probably unreleased for a reason. "Do-Re-Mi" (apparently one of the last songs Cobain recorded) is quite worthwhile, though. Beautiful melody even if it sounds like he's singing, "don't rape me" (make up your mind already).
The third disc collects a lot of the band's released B-sides (kind of like an appendix to Insecticide). The best of the ones there are "Sappy" and Dave Grohl's "Marigold" (with Kurt on drums). On that note, you also get "Endless, Nameless" and "Gallons of Rubbing Alcohol Will Know Us By the Trail of the Dead" (or whatever), the sometimes bonus tracks to Nevermind and In Utero respectively. Which both suck.
The demo of "All Apologies" lacks the line "everyone is gay" and is therefore vastly inferior to the final version.
The rest of it more or less sucks.
Well, okay, a lot of the less developed stuff is still interesting to hear. For a rarities box set, it's pretty solid; it's just that the band was only recording for some five years and three albums. There simply isn't a whole lot of A-grade material left, which is hard to deny even if you're one of those people who thinks Kurt Cobain is Jesus Christ or (if you wanna get blasphemous) John Lennon. And no, I'm not going to close with something trite like, "omg this makes me think about how much music today sux w/o kurt" because it didn't make me think that at all.
Last modified on Monday, May 13, 2019.